Providing quality decorating services in Hampshire & Surrey
Trained team of painters and decorators with over 40 years of industry experience.
Get inspiration for your next big project.
Professional solutions since 1982....
Bourne Decorators was started by two lifelong friends in 1982 and has grown from strength to strength, building a network of friendships within a client base spanning Hampshire, Surrey, and other counties.
Jim, the owner of Bourne Decorators, has been in the painting and decorating trade since he was fifteen and holds all relevant qualifications (City and Guilds Qualifications to Level 3 in Advanced Crafts). He is additionally certified to teach within the classroom, having spent two years teaching students at Guildford College.
Jim's son Richie is also fully qualified and is part of the business. Qualifying at Guildford College, Jim plans to keep the business in the family and is in safe hands going forward.
Get in touch with team for more information and expert advice.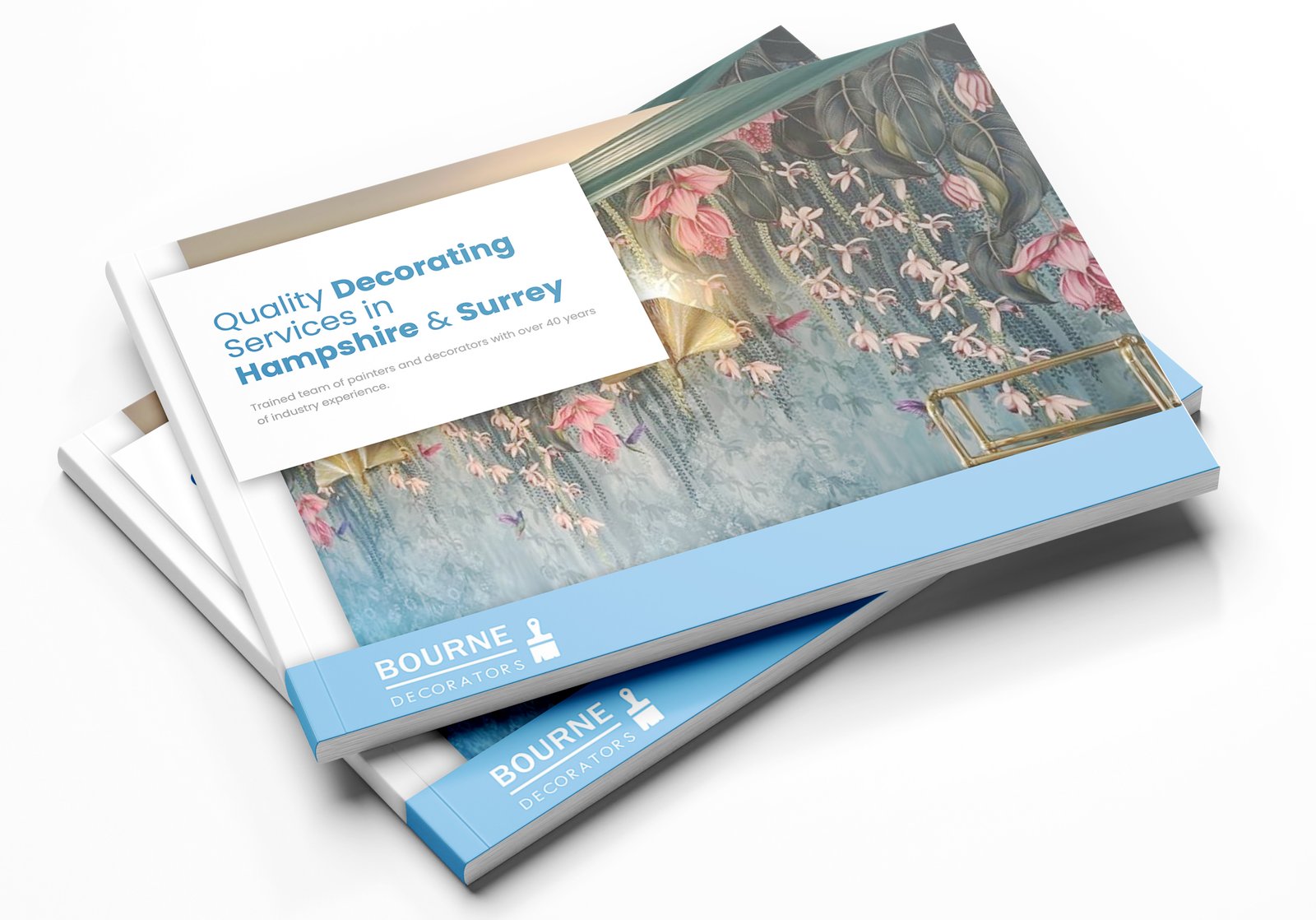 Download our brochure for more information on our excellent range of services.
Simply enter your email to get our brochure sent straight to your inbox.
Jim, his son and their friendly band of brothers have been working on a grade II listed Hall in Hampshire. Jim et al. are always smiling and clearly love what they do!
They have been working on this complete redecoration for a couple of months now and are just fabulous.
Jim is very professional and also a positive and cheerful guy to have around. He has painted the exterior of our house (extensive scaffolding required plus snow guards to be fitted, all organised by Jim) and we are very pleased with the results.
We wouldn't hesitate to recommend him and have asked him to quote for the interior of the house!
We have used Jim on a number of occasions to decorate throughout our home and would not think about using anyone else. The result is always excellent and Jim is highly professional and trustworthy. He works on our home as if it was his.
Jim and his lovely crew recently completely transformed the exterior of our house - they did a fantastic job....a tired looking house now looks proud again. They are thorough, reliable, a real pleasure to have around and per other reviews, Jim can certainly carry a tune! I recommend Bourne Decorators 100% and will look forward to Jim and his team working here again.
We needed the exterior of our building redecorated, and we're absolutely delighted with the outcome. Jim is knowledgeable, thoughtful, and very experienced. The quality of the work is extremely high, as is the attention to detail. No corners cut, reliable, friendly, and trustworthy - no hesitation whatsoever in recommending Bourne decorators.
Jim & his team did a great decorating job on our house. They went out of their way to get the job done around another project we were having done & saved our skin! They came on time, delivered, used good products and gave great advice! Most importantly, Jim and his team are genuine & likeable people, and that's who you want in your home! Thanks guys!
Always delighted to recommend Jim and his crew who've done work for us over many years. They're reliable, trustworthy and work to a very high standard. They're also a pleasure to have around although whatever you do don't forget to order in extra tea-bags! And ear-plugs in case Jim starts singing. Bill, Rowledge.
Bourne Decorators have recently repainted several rooms in my house and I would not hesitate to recommend Jim and his team. Good quality work, very tidy, reliable and thoroughly nice people. They like cake.
Recently had Jim & Richie over to paint our main bedroom, study, hallway & stairs - and what a fantastic job they did too. Really nice guys and a pleasure to have them in the house. Kept mess to an absolute minimum and worked conscientiously throughout. So impressed I've asked them back to quote for the remaining rooms in the house!
I've had a few guys do this kind of work but never have they been so professional, neat, reliable and trustworthy. The price was competitive and the finish was second to none. Thanks Jim - outstanding job and we will definitely be recommending to friends family and Facebook buddies!
I have used Jim and his team for 15 years or so, and would not have anyone else. They are friendly, trustworthy, and a delight to have in the house. (I'm sure I find jobs for them to do regularly just so that they can come back!) Ask Jim about his wallpaper top tip - it's amazing - and saves a ton of money...seriously, my house looks as good 9 years after being decorated as it did when first done.
Jim, his son and their friendly band of brothers have been working on a grade II listed Hall in Hampshire. Jim et al. are always smiling and clearly love what they do! They have been working on this complete redecoration for a couple of months now and are just fabulous.
We've used Jim & his team probably five times over the last 10 years. They do all the essentials very well: good quality, value for money, trustworthy to have around, clean up carefully and the like. As important they're good fun. Zero stress and always a joke or two flying. Jim singing is an experience
Jim and his team are very professional at all times. Courteous and friendly manner and always tidy up after themselves. Good quality workmanship and Jim really does take pride in what he does and it shows in the finish. I would thoroughly recommend Jim and would not hesitate to use Bourne Decorators again. You will not be disappointed.
Excellent results from Jim as always. We have used him a number of time and would never look to use anyone else. Always professional, always a great job.