The most important part of the house is the bedroom. It is the one place you can run to when tired in the evening and wake up rejuvenated in the morning. Therefore, the colors you choose when painting it are very crucial. After all, you're trying to invoke a serene atmosphere.
Thus, one thing to remember is that colours can change your mood. They can make you feel happy, sad, energized, calm, cheerful, and joyous. Therefore, when you choose the right paint colours for your bedroom, it can bring about the desired emotion or mood that can help you achieve optimal relaxation at the end of the day. Colour can also make one feel creative, therefore invoking the mind to think outside of the box. Thus, when looking at paint selections, don't be surprised if a coordinating set of tones stand out and inspire you to redecorate your bedroom.
Top 5 Paint Colours for Your Bedroom
Below are some paint colours for a bedroom that will promote a calming effect at the end of a busy day.
Green for Energy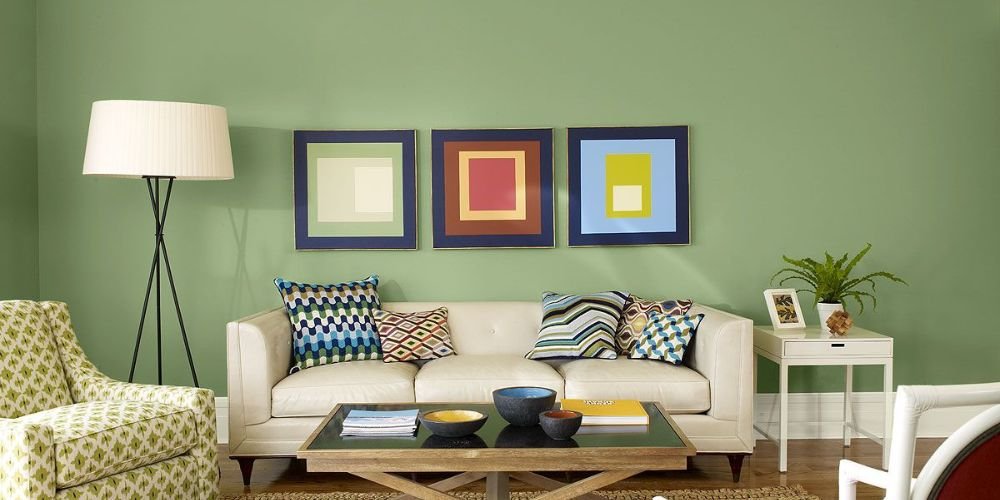 The colour green is rated as the best hue to paint your room since it is known to restore energy after a peaceful night's sleep. It invokes a calming and serene environment since it is the most soothing colour to use when painting your bedroom. It consists of a mix of yellow, which represents glory and energy, and blue, which relates to the heavens. Green brings life to the room and can make you feel refreshed and optimistic. It is one of the best paint colours for your bedroom since it will make you feel motivated to hop out of bed and start your day.
Yellow for Cheerfulness
Yellow happens to be one of the most energetic colours. It relates to sunshine and laughter. Hence it can make you feel cheerful. However, one of the best ways to tone down the brightness is to opt for a pastel shade of yellow or one that is completely subtle. Likewise, you can go for a warmer tone like saffron, which is quite similar, but more subdued.
Lilac for Calm
Lilac is a soft shade of purple. It is a soothing colour that gives a calm feeling just like the aroma of the flower that bears the same name. Although it has a mixture of blue, red, and white, it still creates a calming environment that is known to help you to let go of stress and relax.
Pink for Joy
Pink, likewise, has a calming effect on people, especially, if it is a pale or pastel shade. It tends to invoke cheer and positive energy by introducing some sort of softness and calmness to a room. When used for the bedroom, it can also make it look more spacious. Plus, it coordinates well with other colours, such as warm shades of yellow, orange, and red, and calmer shades of blue, green, and grey. Pink is an excellent colour to wake up to every morning and come back to after an exhausting day.
Light Yellow for Happiness
As you know, yellow is a cheerful and bright colour, that is quite lively and vibrant. It helps provide an exciting and cheerful mood in the morning when you wake up. By incorporating a pale shade of yellow, you might invoke a mood of motivation and rejuvenation considering how this tone mimics the effect of sunlight. Choosing the right paint colours for a bedroom that matches well with your furniture will be a hard task. Fortunately, the paint experts at Bourne Decorators can assist you with selecting the perfect shades and finishes that will create the ambience that you are hoping to achieve. We integrate your preferences with our vast knowledge of interior decorating to make sure that you will have your dream bedroom.